Sorry for the lack of posts this weekend! We had my sisters bridal shower at our house so I was busy ALL weekend with that. Plus Friday night I was out late at a concert in Delaware, it was a long weekend! Thankfully, the shower went very well and we surprised her which was exciting!
Anyway, this board is a little bit
kitschy
, a little bit funky and a little bit rustic. I'm really loving rustic touches.. they add an interesting element to the wedding photos. And how
freakin
' cute is the dog in the
bow tie
?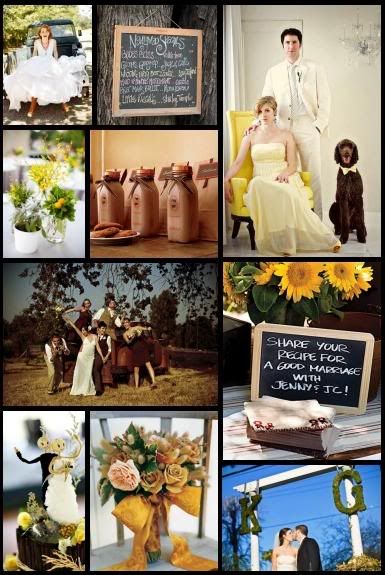 Sources: 1.
Shelley Kroger
, 2.
Brides
, 3.
Next Exit
, 4.
Luna Photography
, 5.
Brides
, 6.
Travis Hoehne
(this is a great chocolate and mustard wedding!), 7.
Martha Stewart Weddings
, 8.
Jenna Walker
, 9.
Martha Stewart Weddings
, 10.
Wedding Bee