This board was created for a bride who e-mailed me and was a bit confused about colors. She's getting married in a library and wasn't sure if the bright color palette that she loved would work in her venue (the library at
Johns Hopkins University
, such a unique venue!) My solution was to keep the bright colors in the flowers and other details and dress the bridesmaids in chocolate brown. Hope you love it!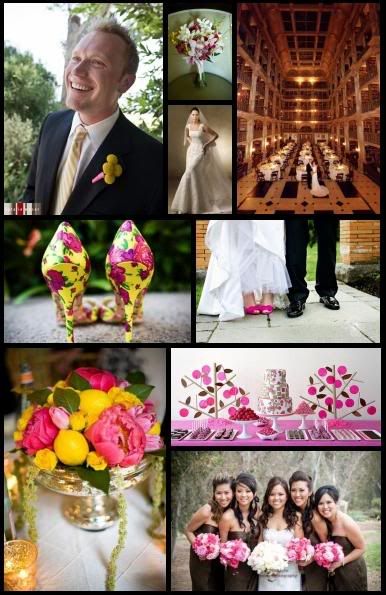 edited to add:
Just got an e-mail from the bride to be...
"
Oh my oh my!!!!! I LOVE it. I wasn't sure I could have both colors I
loved, and you made it come alive! I truly like the matches you have
created, most so the lemon fuschia flower bowl, the bursts of fuschia
here and there. Plus adding the chocolate brown to the fuschia for
bridesmaid dresses looks like it would work really well. I feel
honored you created this for me Carly. too. It's almost as having my
wedding featured in a magazine, that is, what my future wedding would
look like. Thank you so so so much. :)

Christine"